GDA-400 – controller for different sensors
GDA-400 with 4-20mA inputs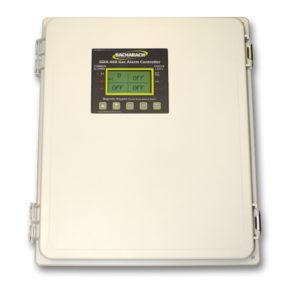 Four Channel Alarm Controller
Control system for up to 4 transmitters
Graphic LCD shows real-time monitoring
Complete calibration functionality
Non-volatile memory retains all configuration data
Optional discrete channel alarm relays
Bacharach's GDA-400 controller is designed to provide simultaneous display and alarm functions for up to four fixed-system monitors with 4 to 20 mA inputs. Real-time data displayed on the LCD includes gas type and concentration, bar graphs and 30-minute trends.
The GDA-400 is equipped with a fault and three adjustable alarm levels per channel. Relay outputs allow control of audible and visual alarms, strobes, horns, and other alarm events. Options such as 4 to 20 mA or Modbus® RTU outputs and discrete alarm relays are easily added.
ATTENTION:
The system is dedicated primarily to cooperation with existing, installed gas sensors from different manufacturers.

In the case of design and installation of a new detection system, it is recommended to use MGS-500 or C3-NET sensors equipped with digital Modbus outputs, plugged to MC3 or ASIX control system.

The digital signal, unlike the analog 4-20 mA signal, is a non-modifiable and undeniable signal that guarantees above-average information security.
SPECIFICATIONS
Type
Four channel alarm controller
Inputs
Four 4 to 20 mA
Display
Backlight graphic LCD, 128 x 64 Pixel; 6 status LEDs
Power
100 to 240 VAC, 24 VDC
Alarm Relays, Common
2 Standard, SPDT
Rating: 5 A @ 30 VDC or 250 VAC, resistive load
Alarm Relays, Discrete
6 optional, SPDT
Rating: 5 A @ 30 VDC or 250 VAC, resistive load
Analog Outputs (Optional)
Four 4 to 20 mA
Serial Port (Optional)
Modbus RTU via RS 485
Temperature
13 to 122 ºF (-25 to +50 ºC)
Housing Options
NEMA 4X / IP66; NEMA 7 optional
Dimensions
8.0" x 10.0" x 6.25" (210 x 255 x 160 mm)
Approvals
CE Mark, CSA/UL Div 2 (Pending); NEMA 7: Div 1, Group B
PART NUMBERS
Part Number
Description
5700-0400
GDA-400 4 Channel Base Controller, NEMA 4X Enclosure

NOTE: One input card must be ordered with each controller

Options
5700-0014
Optional 4 to 20 mA Input Card
5700-0020
Optional Bridge Sensor Input Card
5700-0015
Optional Alarm Relay Output Card
5700-0019
Optional 4 to 20 mA Output Card
5700-0017
Optional RS-232 / RS-485 Modbus® RTU Output Card
5700-0029
Optional 50 W Power Supply (Required if connected transmitters exceed 10 W)
---
TECHNICAL MATERIALS
GDA-400 DataSheet
GDA-400 Manual
GDA-400 Declaration of Conformity