MVR – Protect Guests from Refrigerant Leaks
MVR-300 - integrated monitoring of usable space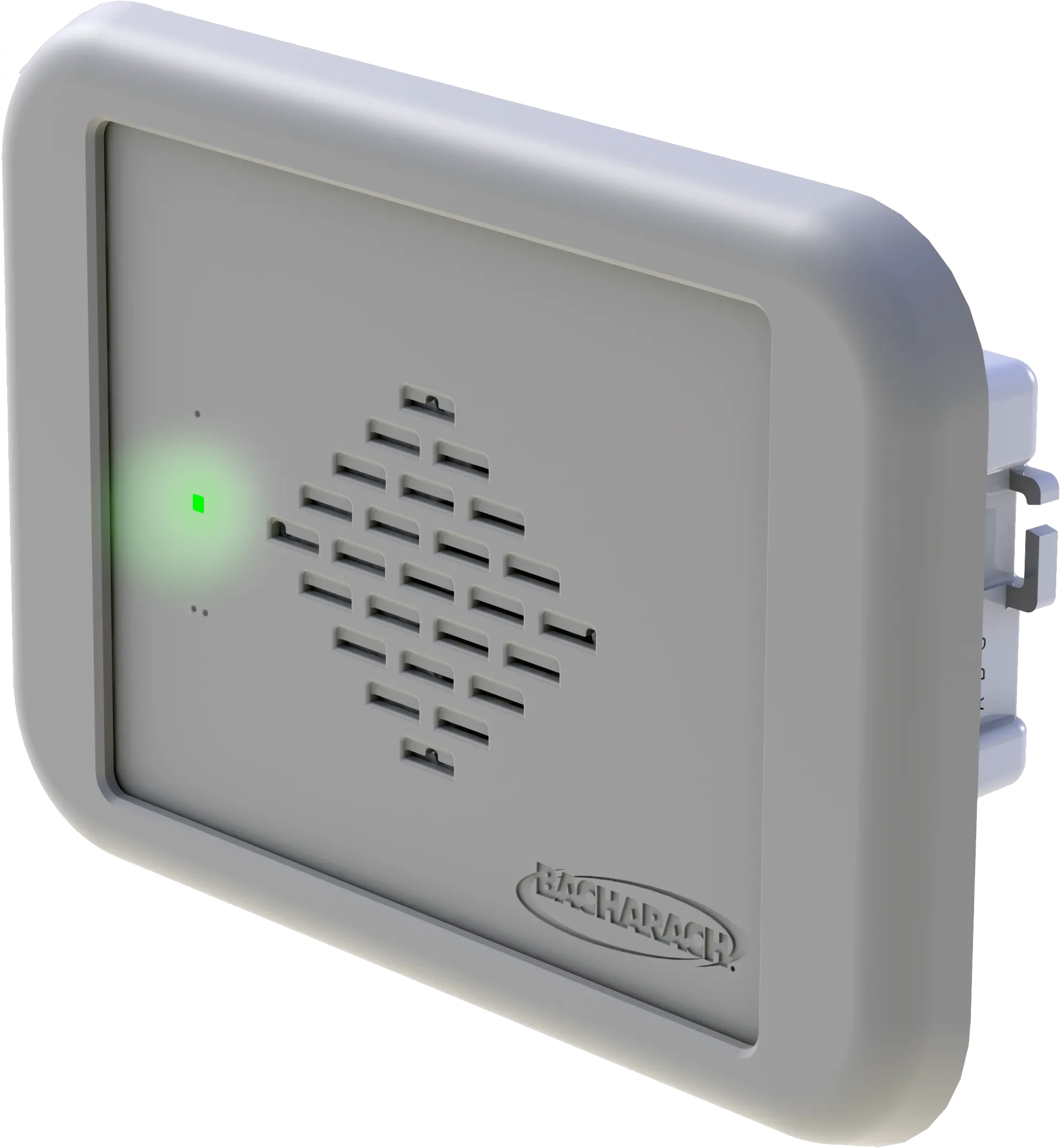 MVR-300 serie of gas detectors is adapted to detect leaks of refrigerants in usable spaces. MVR-300 detectors MVR-300 detect R410A, R407C, R404A, R32 gases.
The MVR-300 gas detector is a pre-calibrated alarm system that combines a gas sensor and an integrated base module. The detector can be mounted directly on the wall in a standard 2-pole flush-mounted box.
The detector is intended for the detection of gases in enclosed spaces, where a high-performance global cooling and / or heating system has been mounted.
The MVR-300 detector has a built-in audible and visual alarm, two relays to be used, for example, to start exhaust ventilation, communication with the building control system or emergency call and Modbus output normally used for communication with higher-level BMS control systems.
The detectors are equipped with a sensor adapted and calibrated to detect one of the cooling gases R410A, R407C, R404A, R32.
The MVR-300 series of detectors complies with the required legal regulations and safety requirements:
• Standards: EN378, ASHRAE 15, ASHRAE 147
• Certifications: UL, CE, CSA, IEC and EN
Ideal for: 
   air conditioning systems, 
   hotels, hospitals, schools, 
   conference rooms, theaters, 
   offices, apartments, 
   airport rooms, wellness centers, 
   shopping malls.
Specification:
Detectable Gases
R-410A, R-407C, R-404A, R-32
Measuring Ranges
2,500 ppm, 5,000 ppm, 10,000 ppm
Housing
Flush mount, white ABS, fits in most 2-gang electrical back-boxes
Size (L x W x D, approx.)
6" x 4.1" x 1.75" (150 x 105 x 45 mm) including bezel
Protection
Indoor: IP40, NEMA 1
Weight (approx.)
8 oz (230 g)
Power
100 to 240 VAC, 50/60 Hz, 4 W max.
Indicator
Tri-color LED: green, amber, red
Buzzer
80 dB at 12" (30 cm)
Relay
Two SPDT: low alarm and high alarm / fault, normal or fail-safe; configurable
Relay Rating
1 A at 30 VDC; 1A at 125 and 250 VAC, resistive load
Alarm Delay
0 to 15 minutes; configurable 0, 5, 10, 15
Wiring
Power: 3-core cable, 14 to 20 AWG (0.5 to 2.0 mm2)
Relay: 3-core cable, 18 to 20 AWG (0.5 to 1.0 mm2)
Modbus: 2-core twisted pair shielded cable 18 to 24 AWG
Modbus RTU
Baud Rage: 9,600 or 19,200; configurable
Environmental Conditions
Operating Temperature: 32 to 120°F (0 to 50°C)
Storage Temperature: 5 to 100°F (-20 to 40°C)
Humidity: 5 to 90% RH, non-condensing
Pressure: 23.6 to 32.5 inch of Hg (800 to 1,100 hPa)
Elevation
0 to 6,560 ft. (2,000 m) altitude
Sensor life
2 year minimum life with recommended 6 month testing and/or recalibration
Approvals
CE, UL/CSA/IEC/EN 61010-1