NET-EX sensor
NET-EX Cyber SENSOR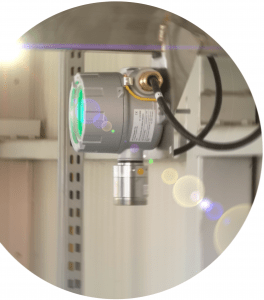 Smart-of-the-art ATEX/IECEx gas sensor  with integrated electronic PLC module.
NET-EX sensor is new solution ATEX class with 4-20 mA and Modbus outputs, closed in aluminium-stainlees steel enclosure.
To integrated electronic module can be plugged electrochemical, infrared or pellistor sensor. NET-EX is mounted in 2-part flameproof enclosure: buttom part has a filter made from stainless steel felt, which permit gases,  electronic module and measuring cell, top part has connection plate, safety components and LEDs.
The selected sensor is mounted in a special protective capsule, keeping it in the right position, guaranteeing the highest efficiency of its work.
The universality of the housing and the set of protective capsules allow the installation of standard electrochemical oxygen and toxic gas sensors.
The NET-EX two-piece housing allows easy sensor replacement. The lower part of the housing has an M46X1.5 thread for easy mounting of accessories or additional dust filter.

---
NET-EX enclosure has been tested and is certified according to the ATEX  directives.
Dust protection and IP increase is available on request as an additional thread-mounted adapter.
---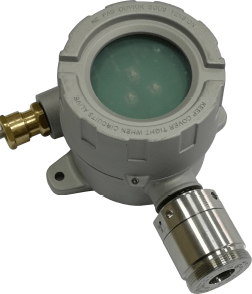 Features
4-20 mA output for connectin with analog systems
RS485 (Modbus) for working with new digital systems
Tree big LEDs visible from afar
Copatibility with IR, EC and perlistors sensors

The system is delivered complete with a configured and calibrated sensor

Non-standard designs are available on request

Easy calibration in the field
Software for sensor management
Full compatibility with ATEX
9-30 VDC power
avaliable in standard version, with a head on a cable or with

angular head

full stainless steel version of head avaliable on a request
The uniqueness of the solution:
NET-EX sersors have outputs:
4-20 mA for cooperation with older  BMS, SCADA, PLC systems
Modbus RTU for cooperation with new BMS, SCADA, PLC for comunication via digital nets,

in particular with dedicated systems

such as MB, BZ and JBSM JBK production
service and alarms signals

blockade against damage to the sensor

(overrange blocade)

setting parameters stored in the memory of the measuring sensor electronics
Modbus RTU port allow to:
building extensive digital networks with gas sensors with a length of one line up to over 1 km

getting full control over the sensor through access to its microprocessor

the ability to perform remote procedures on the sensor controller, including the remote sending of calibration messages

continuous, unmodifiable and undeniable measurement of sensor status, including digital readout of data, alarms, errors

collecting historical data in BMS, SCADA, PLC systems.
Safe, robust housing for many applications
The housing, which is a combination of aluminum and stainless steel, is adapted to a wide range of environmental conditions

The housing with a tempered glass visor, the construction of the housing with a very high fire resistance and a specially selected separation filter of the sensor chamber with dispersion of gas energy mean that the instrument retains its functionality for a very long time from the outbreak of the fire

The Ex "d" version allows for direct connection of devices (control panel) outside the explosion hazard zone, without the need to incur additional material and labor costs for the installation of intrinsically safe barriers.
Ergonomics and safety
The sensor connection housing allows the sensor to be installed separately from the distribution housing

The distribution box is installed in a conveniently visible and accessible place, and the measuring sensor is close enough to the expected gas cloud, often in a hard-to-reach place.
Standard executions:
| | | | |
| --- | --- | --- | --- |
| Gas | code | type of cell | Range |
| Hydrocarbons | HC | Pellistor | 0-100% LEL |
| Ammonia | NH3 | Pellistor | 0-100% LEL |
| Hydrogen | H2 | Pellistor | 0-100% LEL |
| Methane | CH4 | NDIR | 0-100% LEL (4,4%Vol) |
| Methane | CH4 | NDIR | 0-100% LEL (5,0%Vol) |
| Propane | C3H8 | NDIR | 0-100% LEL (1,7%Vol) |
| Propane | C3H8 | NDIR | 0-100% LEL (2,1%Vol) |
| Carbon Dioxide | CO2 | NDIR | 0-5000 ppm |
| Carbon Dioxide | CO2 | NDIR | 0-5% vol |
| Sulfur Hexafluoride | SF6 | NDIR | 0-1000ppm/2000ppm |
| R-134a i pochodne | R134a | NDIR | 0-1000ppm/2000ppm |
| Carbon Monoxide | CO | electrochemical | 0-300 ppm |
| Hydrogen Sulfide | H2S | electrochemical | 0-100 ppm |
| Amonia | NH3 | electrochemical | 0-100 ppm/300ppm |
| Amonia | NH3 | electrochemical | 0-1000 ppm/5000ppm |
| Nitrogen Dioxide | NO2 | electrochemical | 0-30 ppm |
| Nitrogen Oxide | NO | electrochemical | 0-300 ppm |
| Chlorine | CL2 | electrochemical | 0-10 ppm |
| Sulfur Dioxide | SO2 | electrochemical | 0-20 ppm |
| Oxygen | O2 | electrochemical | 0-25% vol |
Tomorrow's technology
NDIR (non-dispersive infrared) technology, the newest infrared technology, joined with dedicated electronic PCB enables unprecedented quality, stability and detection repeatability.
The advantage of the offered NDIR sensors is the practical lack of zero drift and read value.
Higher price, over a minimum of 5 years, it is more than compensated by avoiding expensive ones periodic sensor calibration.
You can find out more in the FAQ.
---
TECHNICAL MATERIALS
NET-Ex distribution box dimensions
NET-EX Declaration of conformity CE, version 3G
---
DESIGNER ZONE :
SERVICE ZONE:
NET-EX Software