1- or 2-alarms Detectors
MGD-100
The M
GD-100 gas detector from Murco / Bacharach Company is a cost-effective analog gas detector for the detection of a wide range of different gases. These detectors are adapted to work with Murco MGD controllers (two- or six-channel) and in this way can be integrated into the decided BMS (Building Management Systems), PLC or SCADA system.
High product quality, many years of practical testing and an affordable price are the factors that give the customer such safety and compliance with technical requirements.
MGD-100 gas detectors can be used in new buildings / spaces requiring continuous monitoring as existing buildings, where it is necessary to extend existing security systems with sensors and gas detectors.
---
Information on two- and six-channel MGD controllers is available in 

Control Systems.
---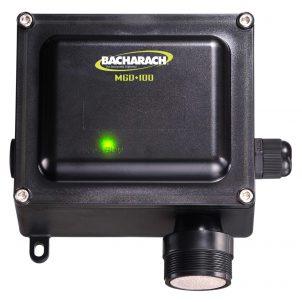 ---
Typical applications:
• Detection of Refrigerants, including ammonia, carbon dioxide and gases from the group of hydrocarbons and hydrogen fluorides - HFCs, HCFCs, CFCs
• Detection of combustible gases such as: methane, LPG, propane, butane and hydrogen
• Detection of toxic gases such as: carbon dioxide and ammonia in refrigeration, hydrogen sulphide in sewage treatment plants, carbon monoxide in parking lots
• Detection of volatile organic compounds such as: acetone, benzene, carbon tetrachloride, chloroform, ethanol, toluene, trichlorethylene.
Murco/Bacharach also offers control panels for the construction of standardized detection systems.
The model range supports 2 to 16 channels.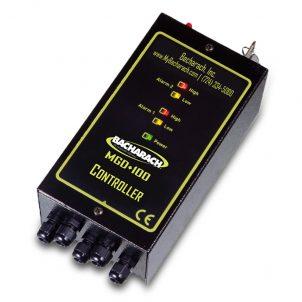 An important argument for choosing a sensor is its compliance with applicable standards.
Murco sensors have the following approvals:
• Legislation: F Gas Regulation, EH40
• Standards: EN378, ASHRAE 15, ASHRAE 147
• Regulatory Approvals: UL, CE, CSA, IEC and EN
The MGD-100 series detectors, as very few in the world, have LY (Lloyd's Register Type Approval System) certification in ENV1 and ENV2 environmental categories, thanks to which they can be successfully used on ships, ferries, cutters and other vessels.
Specifications:
Type
Gas detector using IR or semiconductor sensor
Gases
Refrigerants:
Ammonia (NH3), Carbon Dioxide (CO2), Hydrocarbons, and HFCs, HCFCs, CFCs
Combustible gases:
Methane (CH4), Propane (C3H8), Butane (C4H10), LPG, and Hydrogen (H2)
Measuring Range *
ppm, %LEL or Vol%
Status Indicators
1 alarm system green and red LEDs
2 alarm system green, yellow and red LEDs
Power Supply
12 VDC or 100-230 VAC 60 / 50 Hz
Distance of Sensor from Controller
1 or 2 sensor 200 ft (60 m); 4-wire
4 or 6 sensor 500 ft (150 m); 4-wire
Audible Alarm
Buzzer
Relay *
1 or 2 alarm relay, SPDT
Rating 10 A @ 120 / 230 VAC, resistive load
Ambient Conditions*
Temperature
IP41 - 4 to +122 °F (- 20 to +50 °C)
IP66 - 40 to +122 °F (- 40 to +50 °C)
Humidity
0 to 95 %RH, non condensing
Altitude
0 to 10,000 ft (3,050 m)
Controller Enclosure
powder coated aluminum, M20 cable gland, IP51
Size (w x h x d)

Approx.

1 or 2 sensors 4.1" x 8.4" x 3.2" / 105 x 215 x 85 mm
4 or 6 sensors 10.4" x 10.3" x 3.3" / 265 x 265 x 85 mm
Weight Approx.
1 or 2 sensors 2.9 lbs / 1.3 kg
4 or 6 sensors 5.7 lbs / 2.6 kg
Instrument Enclosure
ABS; M20 cable gland
Size (w x h x d)

Approx. *

IP41 3.4" x 5.6" x 2.1" (90 x 145 x 55 mm)
IP66 6.5" x 6.9" x 3.3" (165 x 175 x 85 mm)
Ex d 5.2" x 6.3" x 3.6" (135 x 160 x 95 mm)
Weight Approx.*
IP41 6.3 oz (180 g)
IP66 22 oz (623 g)
Ex d 9.3 lbs (4.2 kg)
Approvals
CE, UL, CSA, IEC, EN 61010-1
* See datasheet for details
---
TECHNICAL MATERIALS