PGM-IR
PGM-IR Portable leak detector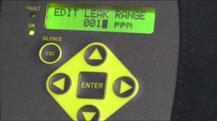 Reduces leak inspection time by 50%
Leak detection already at the level of 1 ppm for all detected gases
IR sensor insensitive to temperature and humidity influences
Frequency voice buzzer, real time ppm reading
Easy location of leaks in refrigerated display cases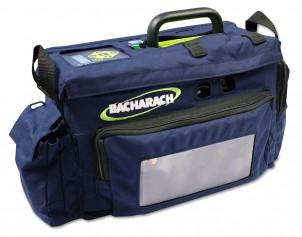 PGM-IR offers excellent quality and functionality in the detection of low ppm leakages for refrigerants, carbon dioxide, nitrogen dioxide, sulfur hexafluoride. The built-in library of 50 refrigerants allows PGM-IR to accurately detect the smallest spills at critical points. The module is resistant to sudden changes in temperature and humidity as well as to gas exposure in a concentration exceeding the scale. PGM-IR does not require zeroing in case of prolonged contact with the detected gas. Built-in memory allows you to save up to 200 readings.
Thanks to the high flow rate, the actual concentration in ppm or TWA is fed directly to the display. In parallel, in order to locate the leak more precisely, an acoustic signal is generated that corresponds to the concentration being read.
Fast zeroing time allows accurate detection of leakage using the probe, by sweeping the refrigeration unit or gas outlet locations. The automatic zeroing algorithm and the filter system allow the system to be used in dirty zones, with no visible external influence on the reading value. The lithium-ion battery allows a minimum of 8-hour continuous operation.
SPECIFICATIONS
Type
Portable Gas Monitor using infrared NDIR sensor
Gases
Refrigerants
CFCs, HFCs, HCFCs, HFOs
Natural Refrigerant
CO2
Medicine and Propellant
N2O
Inert Gas
SF6
Measuring Range
Refrigerants: 0 to 10,000 ppm
CO2: 0 to 8,000 ppm
N2O, SF6: 0 to 1,000 ppm
Sensitivity
1 ppm
Flow Rate
1 L/min (typical)
Response Time
t90 ≤ 5 s
Display
Backlit graphic LCD; audible ticker
Battery
Rechargeable Li-Ion, 8 hours of continuous operating time
Ambient Conditions
Temperature
32 to +122 °F (0 to +50 °C)
Humidity
5 to 90 %RH, non condensing
Altitude
0 to 6,560 ft (2,000 m)
Enclosure
Powder coated aluminum in soft case with shoulder strap
Size (w x h x d)
Approx. 19" x 5" x 8" (500 x 130 x 200 mm)
Weight
Approx. 7 lbs. (3.2 kg)
Approvals
CE mark; NOT approved for use in classified, hazardous areas
---
TECHNICAL MATERIALS

PGM-IR Datasheet
PGM-IR Bladderless Manual
PGH-IR CO2 Manual
PGM-IR N2O Manual
PGM-IR SF6 Manual
PGM-IR Replacement rev.2
PGM-IR Replacement rev.1
PGM-IR Declaration of Conformity